June 27, 2023
Dear Pearsall ISD Parent and Community Members,
We recently sent notification of our District's plan for maintaining a safe environment for our students and staff for the 2023-2024 school year. We understand that there are various questions surrounding the type of backpacks that will be allowed. Below is more information regarding this safety initiative.
Each campus administrator has been asked what they feel is best regarding student backpacks and all are in favor of having students bring clear or mesh backpacks to school this coming school year. Students participating in an extracurricular activity are permitted to carry non-transparent bags to store items pertaining to their particular activity (i.e., band, athletics, etc.).
Therefore, at this time we feel that it is important to ask students to bring clear or mesh backpacks to school. Pearsall ISD will make plans to have clear and mesh backpacks available for those students who do not have one.
Examples of allowable backpacks: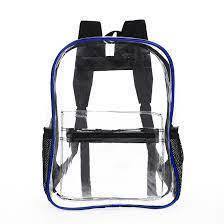 Sincerely,
Dr. Nobert Rodriguez
Superintendent of Schools.